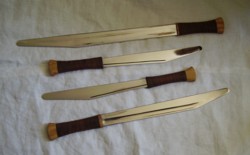 I make a variety of seaxes in Viking and Saxon styles. All seaxes are made from hardened and tempered EN45 spring steel. Seaxes are available in various lengths and styles. Grips are available in horn, antler and wood.
I also create seaxes with copper, silver and bronze inlaid blades. Also available are silver mounted grips.
Commission orders taken.
Seaxes available in different styles and lengths, please let me know your requirements.